Founded in 1945 by Vincent Spatz and his father Anthony, The Spatz Supply Company manufactured cinder block in Berkeley Heights, NJ,
In 1948, with Vincent's keen insight and determination to keep pace with an evolving construction industry, he formed V.A. Spatz Excavating and Paving. The company specialized in all facets of site work, including utility installation, road construction, and paving.
Vincent's sons were active in every aspect of the company and took over the business upon Vincent's death in 1982. To this day, the company remains family owned and operated by Vincent's son Paul as President.
V.A. Spatz resided on the original manufacturing site in Berkeley Heights, NJ, until 2019, when they broke ground on a brand new headquarters in Hampton, NJ. In early 2020, operations were fully relocated to the new site.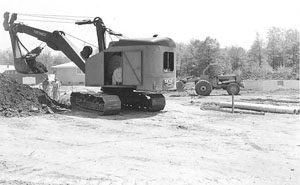 An Enduring Legacy
The legacy of Vincent Spatz and his father, Anthony, continues to this day through the 4th generation of Spatz.  Paul's son Mark and daughter Christina followed in their father's footsteps and now work for the company. Vice President John Roberts's two sons, Jon Ryan and Sean, also work for the company, making them another family that is instrumental to the company's success.